Autumn in New England, for me, is like a Siren call back to the kitchen. The grill is closed up for the season and salad greens give way to heartier braising greens. I crave warmer, cozier food, but that doesn't mean I have infinitely more time to make dinner. Easy one-pot meals are still a must, and the quicker the better – before my toddler runs away with all the wooden spoons!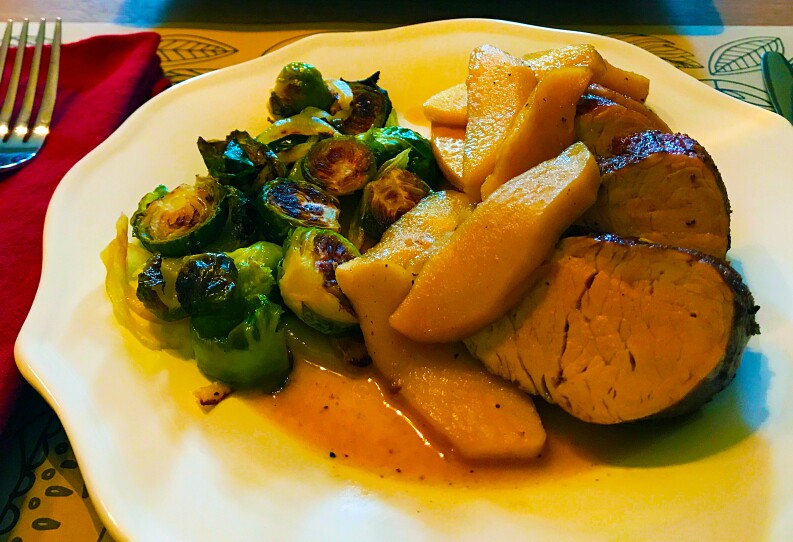 This dish takes full advantage of a very short ingredient list, and boasts big Fall flavors. Apple, maple and cinnamon may sound more like dessert, but those flavors pair very well with savory dishes too, like these pork tenderloins. The pan-roasting method keeps the tenderloins super juicy, and takes less than 30 minutes. A 12-inch stainless steel skillet will give you maximum browning and flavor, but a non-stick skillet will work in a pinch. Skillet size is important because you want to be able to fit both tenderloins and all the apple slices in the pan to roast together. The greatest tip to successfully cooking pork tenderloins is to hit the right internal temperature. 145 degrees is all it takes to have fully cooked pork that's still tender and juicy, but overcooked pork will be dry and chalky. Use a thermometer (ideally instant-read) to ensure you hit the desired temp. If your tenderloins are slightly different sizes, you can even take one out of the oven if it's done cooking before the other.
For an easy side dish, combine 2 pounds small Brussels sprouts, trimmed and halved, with 1 small yellow onion, sliced thin. Toss with 2 tablespoons olive oil, and season with salt and pepper. Roast in the 400-degree oven for about 30 minutes while preparing the pork and apples. (It's okay if they're in the oven at the same time. Just put the pan of Brussels on a lower rack with the pork on the middle rack.
Pan-Roasted Pork Tenderloin with Maple-Braised Apples
Serves 4
Total Time: 40 minutes
Note: I like Gala apples for this recipe because they're the perfect combination of firm and slightly sweet, but you can choose any firm-fleshed apple you like. Avoid McIntosh as they break down too readily. It's important to have the apples peeled and cut before you begin cooking the pork.
Ingredients:

1 tablespoon kosher salt, plus extra for seasoning
2 teaspoons freshly ground black pepper, plus extra for seasoning
1/2 teaspoon cinnamon
2 (1-pound) pork tenderloins, trimmed of silverskin and excess fat
2 tablespoons olive oil, divided
4 medium Gala apples (2 pounds), peeled and cut into 1/4-inch slices
1/2 cup chicken broth
1/4 cup maple syrup
Directions:

Adjust oven rack to middle position and heat oven to 400 degrees. Combine salt, pepper, and cinnamon in a small bowl then sprinkle evenly oven pork tenderloins.
Heat oil in a 12-inch skillet over medium-high heat until just beginning to smoke. Place both seasoned pork tenderloins in skillet and brown on all sides, 1 to 2 minutes per side (about 6 minutes total). The pork will let you know when it's ready to be rotated by releasing from the skillet. If you have to tug to lift it, let it cook longer.
Move browned tenderloins to outside edges of pan and pile apples in center. Pour chicken broth and maple syrup over apples then carefully transfer pan to oven. Roast until the thickest part of the pork registers 145 degrees on an instant-read thermometer, 12 to 18 minutes.
Transfer pork to a cutting board with a channel to catch any juices, tent loosely with aluminum foil, and let rest while finishing apples.
Keeping an oven mitt on the handle of the pan, return it to the stove top over medium heat. Bring to simmer and cook until apples are fully tender and sauce is slightly thickened, 5 to 8 minutes, stirring occasionally. Season with salt and pepper to taste. Cut pork into 1-inch thick slices, place on serving platter and top with apples and sauce. Serve immediately.