This week, Jared Bowen tours a new gallery in Boston's South End, reviews a world premiere play and explores the work of graphic novelist Karl Stevens.
"MassArt x SoWa," a new gallery from the Massachusetts College of Art & Design
The Massachusetts College of Art & Design has opened a new gallery space in Boston's art and design district highlighting the work of its graduate students. MassArt x SoWa currently features work from the school's Master of Fine Arts graduate students and plans to feature student and faculty-curated shows, alumni exhibitions and collaborations with community partners. The gallery's current exhibition, "MassArt MFA Thesis 2021," features paintings, photography and films by eight graduate students and is curated by MassArt Art Museum Executive Director Lisa Tung. The graduating students participating in this exhibition will also host an artist talk on May 27.
"A thesis exhibition isn't a sort of prize or icing on the cake at the end of an academic experience," says Lucinda Bliss, MassArt's Dean of Graduate Studies. "[It's] for students to think about what they want their work to do in the world, what they want to articulate, how they want to communicate it."
"Black Beans Project" presented on-demand by Huntington Theatre Company through May 30
The Huntington Theatre Company presents the virtual world premiere of "Black Beans Project." Co-written by Joel Perez and artist-in-residence Melinda Lopez, the play centers around two siblings who get together virtually to make their late mother's secret family recipe. In the process, they find if they can't live their best life in the pandemic, they can certainly relive their past life with an eye toward the future. Lopez and Perez star in this pay-what-you-can production directed by Jaime Castañeda, which can be viewed on-demand through May 30.
"Black Beans Project is everything the dish at the heart of the piece might suggest — warmth, comfort and textured," says Jared. "With a bond that spills beyond the screen, Lopez and Perez are a choice embodiment of family as their characters test and restore vital familial ties."
Karl Stevens, a graphic novelist who just released a new book titled "Penny: A Graphic Memoir"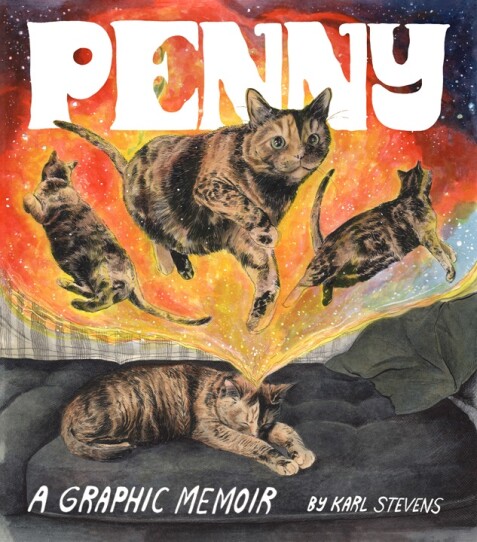 Massachusetts native Karl Stevens is a graphic novelist who has been immersed in art for years as a security guard at the Isabella Stewart Gardner Museum. Stevens has gone on to create work for The Boston Globe and The New Yorker, and has work featured at the Gardner. His new book, "Penny: A Graphic Memoir," is a fantastical and humorous take on the inner world of his cat Penny, who balances a longing for freedom with the acceptance of her comfortable home. It's in stores now.
With work rooted in humor, Stevens describes cracking The New Yorker cartoon code: "It's [got] to be something that's funny and familiar," says Stevens. "It has to make you laugh, but not laugh out loud. Just kind of smile and chuckle."
Got an arts story you feel is worth sharing? Tell Jared about in on Facebook or Twitter!