Healthcare workers and other activists protested Thursday against the Senate Republicans' bill to repeal the Affordable Care Act.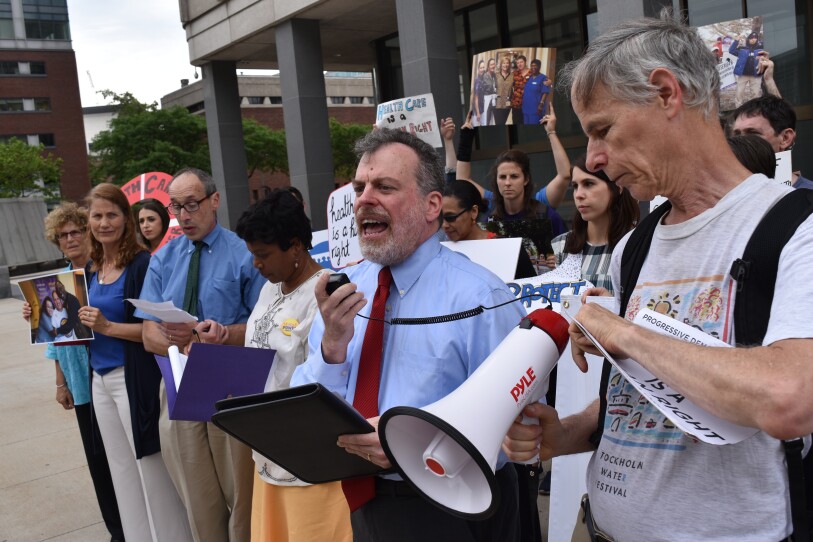 Brian Rosman of the group Healthcare for All says hundreds of thousands of people covered by the Massachusetts Health Connector and by the state's medicaid program, known as Mass Health, could lose coverage under the GOP bill. He says they're asking people to call friends and family in other states.
"Our senators, Sen. Warren, Sen. Markey, are 100 percent with us, and they're planning to oppose this bill with all their heart and soul," Rosman said. "But I have parents in Arizona. Arizona has a swing senator. So I've asked them to call their senator. And that's what we're asking people in other states to do."
The Senate bill would impose several cuts on Medicaid, including a slower annual growth rate starting in 2025.
Lori Abrams Berry, the CEO of Lynn Community Health Care says almost two thirds of their patients are on the state's Medicaid program. Berry said without the preventive primary care the center provides many would likely end up in the emergency room.
"Maybe not all 28,000 of my patients will lose their coverage, but a good amount of them will," she said. "And what will happen also is that a lot of the services they get now from MassHealth that are covered will not be covered."
She said that may include the patients they treat for opioid addiction.

"We have 500 people now under medication-assisted treatment like Suboxone, Subutex [and] Vivitrol," she said. "I don't know how we would do it without Medicaid, and I don't know whether the people who are addicted would be the ones who would retain Medicaid coverage under this bill."

Earlier Thursday, top Republicans have agreed to add $45 billion for battling opioid abuse to their bill. But the measure's fate is still uncertain, as leaders confront an expanding chorus of GOP detractors.


---