MASTERPIECE'S World on Fire has been taking over the drama channels, from previews before our other favorite series to online chatter on social media. A pan-European look at the toll of World War II on the average people of England, Poland, Germany and France, the story line is both expansive and highly personal. Here at WGBH Drama Club, we have to admit: even if we didn't work where we do, we'd still be very interested in this new show, which hits screens on April 5 at 9pm on WGBH 2.
As drama fans know, such a sweeping script is promise enough that this show is something special. But then we dug deeper to learn more about the cast that brings World on Fire to life, and discovered even more reason for the excitement surrounding the series. Let's take a look at who's who in front of the camera:
Helen Hunt as Nancy Campbell
Topping off the list is someone who is no stranger to American audiences: Helen Hunt. Hunt has turned in a long list of Hollywood blockbusters and prime-time television from the 80's through the aughts: St. Elsewhere, Mad About You, Twister, As Good as It Gets, and Cast Away. More recently, she turned to indie cinema with The Night Clerk, I See You, and Candy Jar. Her character in World on Fire, tough-talking American reporter Nancy, is a refreshing take on women in the era, though definitely anachronistic; her research for the role was largely based off William Shirer's Berlin Diary.
Sean Bean as Douglas Bennett
Next on the list of players is Sean Bean, who will look familiar to period drama fans, fantasy fans, and even video game players. A Brit, Bean has had a long-ranging career playing Lt. Col. Richard Sharpe on the small screen, as well as turns as Mellors in Lady Chatterly, Jacopo de' Pazzi in Medici, and John Marlott in The Frankenstein Chronicles. You might also recognize him as Ned Stark from Game of Thrones or Boromir from Lord of the Rings, or even from his video game voice-acting work: Hitman 2, The Elder Scrolls IV, or Civilization VI. Here, Bean plays Douglas, a pacifist who struggles with shell-shock from World War I, and how his own beliefs fit with those of his children.
Jonah Hauer-King as Harry Chase (pictured at top of article)
While Hauer-King's name might not be as immediately familiar as the first two actors on this list, chances are you already know him. While World on Fire is only Hauer-King's third British Drama, his first two include WGBH audience favorites: MASTERPIECE's Little Women, where he portrayed Laurie, and MASTERPIECE's Howard's End, where he takes on the role of Paul Wilcox. In World on Fire, he fills the role of Harry — translator-turned-soldier-turned-OSS — with the ethos of the age.
Julia Brown as Lois Bennett
While Julia Brown portrays one of the main characters in World on Fire, she has a short resume to date: Molly Kilmuir in Shetland, Keri in M.I.High, and a bit part as Ecgywn in The Last Kingdom. However, Brown is something of a secret weapon. Not only is she a swiftly rising star — we'll be seeing her soon in Netflix's The Angel of Darkness — but when it came time to give voice to the musical Lois, it came easily for Julia, who is also a talented singer.
Zofia Wichlacz as Kasia Tomaszeski
Playing a young woman in wartime Warsaw came as no stretch to the Polish Wichlacz (roughly pronounced VEEK-lach). Not only was she born and raised in the city, but she's taken on roles in a few films based in the era, including Warsaw '44, and The Reconciliation, a film that takes place just after the liberation of Poland. Zofia has been branching off from Polish film and television lately, however. In 2018, she took a turn as Nadya in The Romanoffs, and Karolina Lis in Netflix's 1983. Her portrayal of Kasia is many-layered, taking the character from carefree twenty-something to Polish resistance fighter in an incredibly believable arc.
Lesley Manville as Robina Chase
Unlike most of the players on this list, Lesley Manville has a strong background as a period drama performer, which shines through in her work as the stiff, seemingly-heartless Robina. In fact, she has a strong background as a performer in general, with more than 100 credits to her name. Some of her biggest roles have been in fantasy or period films, such as Phanthom Thread as Cyril, Maleficent as Flittle, Harlots as Lydia Quigley, and even in the eternally popular North and South, playing Maria Hale. What's more, she boasts something no one else on this list can lay claim to: she's on Officer of the Order of the British Empire!
Max Riemelt as Schmidt
A German actor, Max Riemelt is no stranger to American screens. He's perhaps best known for his work as Wolfgang Bogdanow in Sense8, the Netflix series from the Wachowski sisters. Their work on the series must have impressed him, because he'll be working with the dynamic duo again in The Matrix 4, slated for next year. Riemelt also has a background in World War II films, having taken a lead in the German film Before the Fall, as well as accompanying Zofia Wichlacz, also from this list, in Warsaw '44. He imbues his role as Nancy Campbell's Radio producer with the aura of an oily yes-man — a villain you'll love to hate.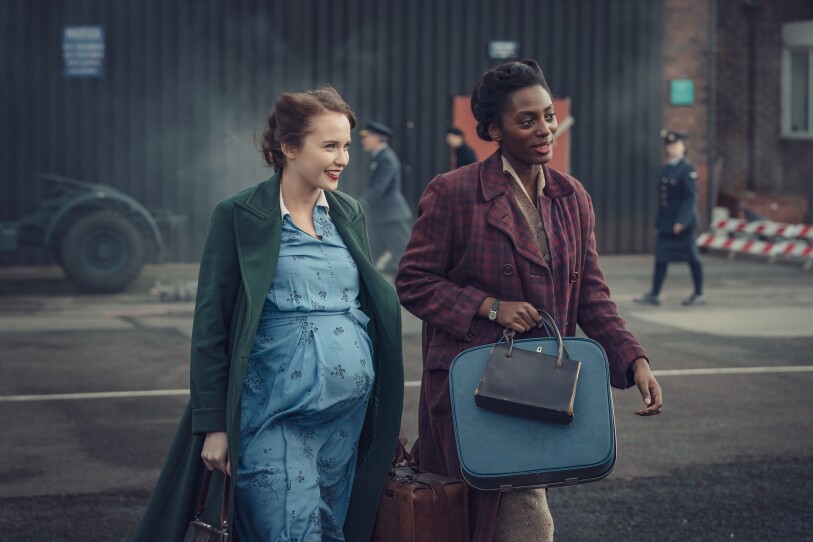 Yrsa Daley-Ward as Connie Knight
Rounding out the cast of World on Fire is the multi-talented Yrsa Daley-Ward. Playing Connie Knight, the musical partner of Lois Bennet, came easily to Daley-Ward, who started her career as a singer, but defines herself as a poet, writer and model. Her books — The Terrible, a memoir, and bone, a book of poetry — have received critical acclaim. Her modeling portfolio is equally impressive, including brands such as Apple, Topshop, Estée Lauder and Nike. And while her acting career so far has been in smaller films and roles, we cannot wait to see what she brings to World on Fire.
With the promise of this cast and its historical premise, we cannot wait for the premiere of World on Fire on April 5 at 9pm on WGBH 2. If you live outside of Boston, check your local listings. And in the meantime, feast your eyes on the show's thrilling trailer: