The backdrop of World War II provides heightened drama for any TV series; the epic storylines from this time period, both personal and historical, have fascinated storytellers for decades. That's why the Drama Club is on the edge of our seats waiting for World on Fire, MASTERPIECE's new drama, coming to WGBH 2 on Sunday, April 5. It just finished airing in the UK, and has already been picked up for another season, so its premiere season is setting the bar high.
Here's what we know about this powerful new seven-part series.
World on Fire features an all-star cast.
It's impossible to overstate how stellar this cast is. The ensemble is led by Oscar-winner Helen Hunt as an American journalist, and Sean Bean, of Game of Thrones fame, as a pacifist and World War I veteran. Rounding out the group is a talented crop of British talent, like Lesley Manville (Another Year, Phantom Thread, Hulu's Harlots), Jonah Hauer-King (MASTERPIECE's Little Women), Blake Harrison (Prime Suspect: Tennison), Julia Brown (Netflix's The Last Kingdom), Brian J. Smith (Netflix's Sense8) and Zofia Wichłacz, a Polish Academy Award-winner.
It tells "extraordinary stories about ordinary people."
World on Fire follows its characters across Europe and allows us to see the war through the eyes of ordinary people living through historic events. The story unfolds during the first year of the war, beginning with the German invasion of Poland in September 1939, and concluding with the Battle of Britain in 1940. "Normal life went on [during wartime]" star Jonah Hauer-King has said. He plays a young Brit working as a translator for the British embassy in Warsaw. "What was interesting for me was learning about how people of our age and generation went through this war and how it changed them. It was such an extreme time."
Everything was filmed on location in Europe.
The show's storytelling spans four countries in Europe: Great Britain, Poland, France and Germany. Such an ambitious story means a complex production, and World on Fire was up for the challenge. Whenever possible, the series was filmed on location in Europe, giving the scenes an authentic perspective. "We had such a great production design team — everything that surrounded us felt real," said Zofia Wichłacz, who plays a young waitress in Warsaw.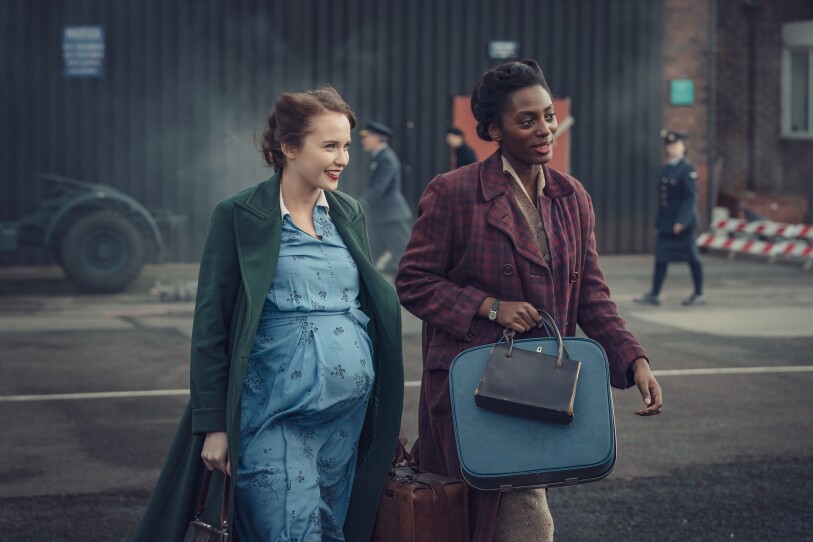 Hunt's character was inspired by real-life journalists.
Hunt plays Nancy Campbell, an American journalist who reports from Berlin and eventually realizes that Germany is getting ready for an invasion. Hunt says that her character is based on two real-life journalists: William Shirer and Clare Hollingworth. Shirer was a broadcast correspondent for CBS who reported on Hitler's rise. Hollingworth, similar to Hunt's character, actually saw German forces gathering on the Polish borders preparing to invade. "William Shirer wrote [the 1941 bestseller] Berlin Diary and literally all my research was in that book, which told what it was like to be in Berlin in the three years leading up to the war," Hunt saidabout doing preparing for the role. "That book landed in my lap thanks to [series] writer Peter Bowker."
It features an LGBTQ storyline.
In a refreshing take for a period drama, one of World on Fire's main plotlines takes a step forward in LGBTQ representation. Webster O'Connor, played by Brian J. Smith, is an American doctor who falls in love with a man who is a musician in Paris. "He's someone who has found himself in Paris," Smith has said about his character. "He's escaped from a pretty oppressive intolerant military family upbringing. They love him but they don't understand him, and he's found that Paris is the place where he is his absolute best self. He's living in a dream world."
World on Fire airs on Sunday, April 5 at 9pm on WGBH 2.