The Miss Worcester Diner was bustling as usual one recent morning. Customers ordered heaping plates of everything from banana-walnut pancakes to corned beef Eggs Benedict.
"People are infatuated with this place," owner Kim Kniskern said as she cooked on the griddle.
Though customers may not realize it, Miss Worcester is one of the last indications the city was once a hub for manufacturing pre-fabricated diners. The main evidence of this historical status is a red brick building on Quinsigamond Avenue — just across the street from the Miss Worcester diner — that currently houses a tattoo shop and flea market.
William Wallace, executive director of the Worcester Historical Museum, recently pointed to a fading black and white sign on the building that reads, barely, "Worcester Lunch Car Company."
"This is where many of Worcester's diners were made," Wallace said.
Worcester has a history as a major manufacturing center in New England. In addition to razors, shoes and textiles, the city was a preeminent producer of diners, which were pre-built in factories before being shipped out on trucks and trains and installed on lots up and down the east coast.
But now that history is less visible because many diners manufactured in the 1900s have been demolished. The casual eateries used to be a common dining option in the Worcester area, with more than a dozen around the region. Now, only a few are left.

Horse-drawn food wagons
The Worcester Lunch Car Company at one point was one of the country's leading diner manufacturers, producing 651 diners from 1906 to 1961. The company's name originates from what diners used to be: horse-drawn lunch cars.
"A little box on wheels. [They looked] very much like train cars," Wallace said.
The lunch cars were introduced in Providence, Rhode Island in the late 1800s. Soon, they were in Worcester, stopping at theaters after plays and outside factories during workers' lunch breaks. Because they had small kitchens, they would offer simple dishes like meatloaf, ham sandwiches and baked beans, Wallace said. They also featured stained glass and elaborate paint work in order to attract customers.
"It looked like a wonderful, pleasant little place with good smells of hot coffee and pies and other things that were emanating from them," said Richard Gutman, who's written multiple books about diners, including "The Worcester Lunch Car Company."
They grew so popular that several Worcester manufacturers began producing and selling hundreds of lunch cars nationwide.
But around the beginning of the 20th century, restaurant owners complained they were losing business to the mobile eateries, and residents accused them of congesting streets. In response to those criticisms, cities nationwide enacted new ordinances restricting where the wagons could go. Many operators decided to move their carts to permanent locations.
Though the culture and needs had changed, Worcester manufacturers continued to produce these one-piece diners.

The rise of the New Jersey competitors
The Worcester Lunch Car Company's main market was New England, but it shipped diners as far as Michigan and Florida. Gutman said the Worcester diners were known for their sturdy booths, marble counters and polished woodwork. Each was custom-made.
"You would go in and sit down with the designer and say, 'OK, this is what I want. This is the size of my lot. This is how many people I want at a counter, how many booths,'" Gutman said.
In addition to serving inexpensive comfort food, they were community meeting spots where people would gossip and discuss news.
By the 1940s, diner manufacturer customers began asking for larger eateries with sleeker designs and shiny surfaces. The Worcester Lunch Car Company tried to meet those demands, producing diners that could seat about 60 people and featured slanted metallic roofs. However, the company struggled to compete with New Jersey's growing industry.
Gutman said New Jersey manufacturers started producing more modern stainless steel diners that could seat about 150 people. The Worcester Lunch Car Company refused to retool its small factory in order to create similar designs. As a result, the company lost customers and made just a handful of diners in its final years before going out of business.
"Nothing lasts forever," Gutman said. "The company had basically run its course."

'A destination spot'
Diners' prevalence in communities nationwide has declined dramatically in recent decades. Of the more than 600 produced in Worcester, about 80 still exist, Gutman said. That's in part due to rising rents, increasing development and the expansion of fast-food chains. Gutman added that diners tend to be family businesses and are difficult to operate.
"The latest generation might look at their parents and say, 'I don't want to work as hard as they did. I don't want to get up at 4 o'clock in the morning and do that kind of work,'" Gutman said.
Still, he said he's not concerned about diners completely disappearing. They've become more precious and popular now that fewer exist, he said.
Miss Worcester exemplifies that.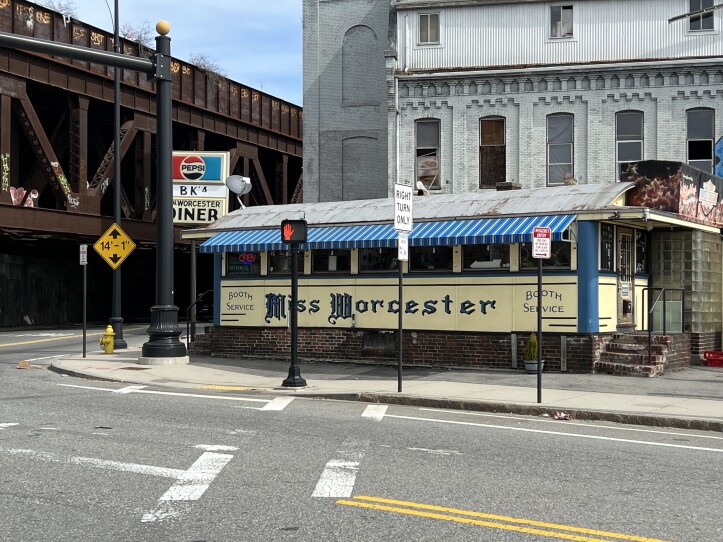 Owner Kim Kniskern said she never expected the diner to become so popular when she bought it two decades ago. It sat vacant for several years before she reopened it.
"The diner itself is a destination spot and a historical landmark," Kniskern said.
She has tried to preserve original parts of the diner, including the counter, stools and refrigerator. The thousands of random stickers all over the walls and ceiling are new.
Customers told GBH News they had no idea Miss Worcester was pre-built, let alone that it's right across the street from Worcester's former diner factory. But they said Miss Worcester's aesthetic is part of what makes it so attractive, and they hope it never closes.
"When you see an older movie, that's kind of the look of this diner," Muhammed Zakkari said. "You don't really see [diners] that often. … We're fortunate to have that here."
---