Boston's Camp Harbor View would normally bring nearly 1,000 kids from all over the city to free day camp on Long Island in the Boston Harbor. But the camp's leadership decided meeting on an island wouldn't be safe this year. Rather than cancel camp completely, it went virtual.
Online, campers can join a rousing performance by a group of counselors in COVID-appropriate masks. There are also guided projects to do at home, and kids post their projects online to receive encouragement from staff. And because projects need supplies, the camp distributed bags of art and science project materials, yoga mats and even old-fashioned box games to families.
The story of Camp Harbor View is a familiar one this summer — just when kids need it most, camp can't happen the way it used to. But in the scattering of virtual and in-person camps that were able to open, camp advocates say, kids are learning lessons that will help them in the coming school year — whatever form it might take.
Chris Smith, executive director of Boston After School & Beyond, an umbrella group for many of Boston's after school and camp programs, said whether camp is in person or virtual, connecting young people with adults who care about them has an impact on school.
"We have 10 years worth of research that shows that this approach works not only in social and emotional skills like teamwork and perseverance and communication, but it also gets results in academics," Smith said. "These summer programs have filled an important gap in any summer, but particularly this summer, where they've been distant from their teachers and others who care about them."
Thirteen-year-old Camp Harbor View camper Luis Espinal said his group recently talked about self-image and "life skills," including how to be interviewed. He called virtual camp "interesting," but missed being "one-on-one in person and not being separated by miles" from friends and counselors.
Espinal's 18-year-old brother Kristian meets virtually with his peers as a Camp Harbor View "Leader in Training" — they talk about career access and recently shared poems about identity.
"This would've been my first summer leading a group of kids, which would have been a pretty cool experience. Been waiting for it for a while. But it's all right. We'll see, next summer, hopefully we'll be back on the island having fun again," Kristian said.
Luis and Kristian's mother Evelyn says with the three of them stuck at home, even virtual camp is a critical outlet for her sons.
"At some point, they need to talk and sometimes they talk to me all the time," Evelyn said. "They need someone else to talk, and they need someone else's point of view to tell them that it's ok, it's gonna be ok."
Lisa Fortenberry, Camp Harbor View's executive director, says the camp added resources for emotional support during the pandemic.
"We decided to expand the staff to actually add additional clinicians to our team and crisis response staff to be able to facilitate peer groups for kids that may be dealing with anxiety or depression or just sort of general concerns as it relates to the pandemic," Fortenberry said. "We also facilitate parent groups with our clinical team."
Some day camps were able to open in-person this summer, and that's where students are honing their pandemic-time habits in preparation for what promises to be an unprecedented school year.
On a recent day at the YMCA in Roxbury, kids were experiencing play the new way: Chasing each other in a field, wearing masks. Temperature checks. Frequent handwashing. A preview of the school year ahead.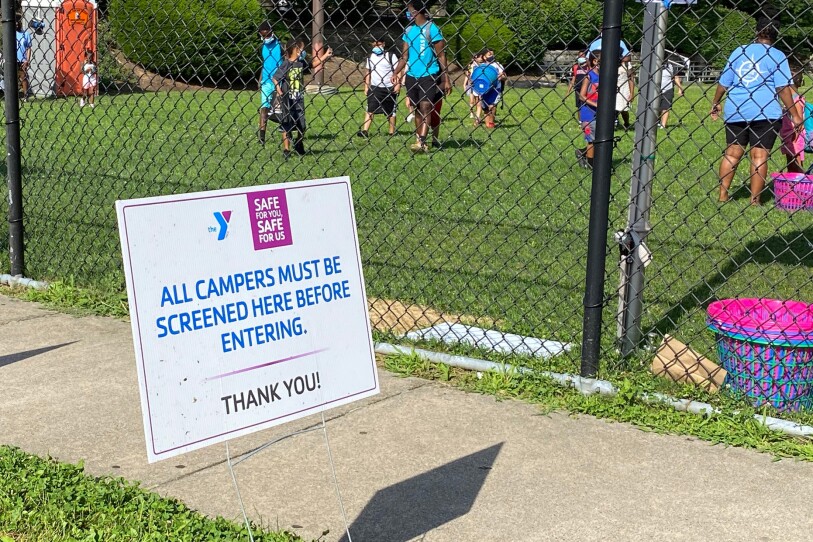 Ashesha Rockett stopped to talk after she had dropped off her 7-year-old son Zaeden. She said she had COVID in March, but her son stayed healthy. Now, she said, he's "obsessed" with wearing a mask and worries about taking it off.
"It's been kinda stressful. I'm just happy that the Y is open so he can kind of get back to some ... normalcy," she said. "It's hard. We're just trying to adjust in this thing."
At the Y kids stay in small consistent groups, keep their belongings in separate plastic baskets and on this day seemed to need only occasional reminders about their masks.
"It's definitely a new experience for the kids, the idea of keeping their masks on, not just for a trip to the store but keeping them on all day," said YMCA Multi-site Director Maggie Mattaini. "We're really trying to help them learn how to keep it on, how to properly take it on and off, because when they go to school, they are going to be wearing those masks all the time."
It's part of a skillset few could have imagined a year ago.
"Camp is like a microcosm of everything else that happens in our world," said Bette Bussel, executive director of the American Camp Association, New England. "A lot is going to be learned from the camps that have campers this summer, things that will impact schools and help other people and how they were able to operate with COVID 19."
The pandemic has likely altered the camp landscape for years to come. Bussel said the industry has taken "a very hard hit" and estimates that half of summer camps in New England weren't able to open.
Correction: This article has been updated to correct the name of Boston After School & Beyond.
---