Harvard Square stands as a bustling intersection full of trendy restaurant chains, convenience shops and seasonal community festivities. One thing it lacks: a nearby fresh food supermarket.
According to guidelines from the United States Department of Agriculture, Harvard Square is one of several areas in Massachusetts that can be categorized as food desert- a place with limited access to healthy, fresh and affordable food within a mile. Cradled adjacent to Harvard University and relatively close to heart of Cambridge, Harvard Square's deficiency poses a challenge to students and residents alike.
Stuart Dash, Director of Community Planning for the City of Cambridge spoke with WGBH's Morning Edition host Bob Seay about how the city is planning to address this issue.
Dash explains that the lack of space proves to be the biggest contribution to Harvard Square's food accessibility plight. Dash says supermarkets seek to locate to high in-demand areas with lots of open space, allowing the capacity for a parking lot. Harvard Square possesses the qualities of an attractive retail location but lacks the wide space that supermarkets require.
Dash says the Economic Development Division of the city's Community Planning Department works actively to locate small, local businesses to meet the basic needs of the community. Dash says the department considers areas with vulnerable populations when scouting new locations for grocery stores looking to come to Cambridge. Transportation has been a primary focus in their efforts to help alleviate the issue of food insecurity. Dash also adds that city officials understand that there is a large part of the population who are constantly seeking alternatives to traveling long distances to access a supermarket.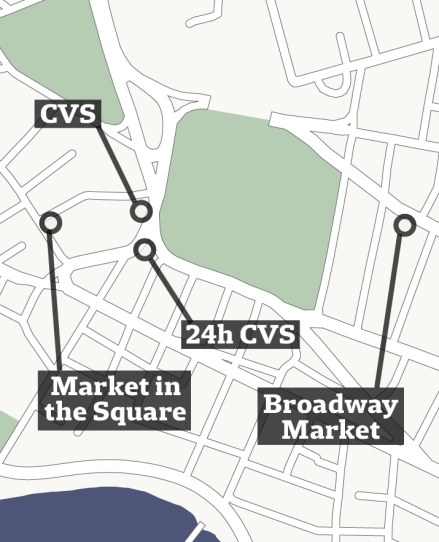 Dash explains that while there are no current negotiations in the works for the arrival of a closer supermarket, Broadway Market stands as the closest grocery store- within about a 0.4 mile distance. The square also offers several seasonal farmer's markets throughout the growing season. Dash says the Food and Fitness Policy Council, a city-wide, cross-departmental committee, is constantly working to find a more permanent solution to food inaccessibility for all Cambridge residents.
Cambridge's low-income residents, considered most vulnerable to food insecurity, are provided federal aid through the Supplemental Nutrition Assistance Program, also known as SNAP. This government funded assistance program provides subsidized groceries for low-income residents whom apply. The City of Cambridge's SNAP match programprovides a one-for-one match for every dollar spent at a local farmer's market associated with the Cambridge SNAP Match Coalition. The state's Department of Agricultural Resources says the match program was created to encourage EBT/SNAP users to shop at local farmers markets more frequently.
State Republicans have expressed interest in cutting funding and blocking grants to the SNAP program prior to the ushering in of a new Republican president and Congress this year. Many state Democrats fear possible alterations or cuts the program may experience and what it will mean for the thousands of people in the Bay State who depend on it. Dash declined to comment on how President Trump may or may not alter the program but said that the city of Cambridge will continue to accept SNAP coupons and provide healthy food choices at places where food stamps are accepted.
---