Give These Photos A Listen
It's the time of year when newsrooms comb through thousands of photos to find a few dozen to represent the year in pictures.
This has always been an impossible task, perhaps never more so than in a year marked by national and international political upheaval, ever-rising concern about the planet's future, and social unrest in nearly every corner of the world. No set of photos can capture the full range of stories that held our attention and shaped the year, and inevitably, as many important stories are excluded as included.
This year we would like to highlight another aspect of inclusion — the need for photo essays (and all photos) to be more accessible to those who can't see. So, we've partnered with GBH's National Center for Accessible Media to present you with a more accessible "Year in Pictures."
Each photo below is accompanied by both a caption and an audio description. While the caption identifies the date, subject and photographer, the audio description puts into words the key visual elements of each photo for people who are blind or have low vision. In addition, a text transcript of each image description is also available for people who are deaf or hard of hearing.
These 25 images represent only a small fraction of the important stories of 2019, but we hope more of you will now have a richer experience engaging with them. Please have a look, a read, and a listen.
— Meredith Nierman, Director of Photography
Find more information about descriptive audio and screen readers and see a list of credits.
Flanked by First Lady Michelle Bolsonaro, Brazil's President Jair Bolsonaro waves as he rides in an open car after his swearing-in ceremony, in Brasilia, Brazil on January 1. Bolsonaro was one among a wave of far-right conservative leaders elected recently in Latin America, including in Argentina, Chile, Colombia, Paraguay and Peru. (Andre Penner/AP)
U.S. President Donald Trump speaks during a meeting with Chinese Vice Premier Liu He (L), in the Oval Office at the White House on January 31, 2019 in Washington, DC. U.S.-China top trade officials have finished two days of face-to-face trade talks to end a months-long trade war between the world's two largest economies. (Photo by Mark Wilson/Getty Images)
Rep. Alexandria Ocasio-Cortez (D-NY) and other lawmakers cheer during President Donald Trump's State of the Union address in the chamber of the U.S. House of Representatives at the U.S. Capitol Building on February 5 in Washington, D.C. A group of female Democratic lawmakers wore white to the speech to honor the record 117 women who were elected to Congress that year, and as a nod to the suffragette movement. (Alex Wong/Getty Images)
Two-year-old William Josue Gonzales Garcia, traveling with his parents, waits with other families who crossed the nearby U.S.-Mexico border near McAllen, Texas, for U.S. Customs and Border Patrol agents to check their names and documents on March 14. A surge of Central American families crossed the border over the first half of the year, leading to reports of overcrowding and poor conditions in detention facilities along the border. (Eric Gay/AP)
On March 14, relatives of crash victims grieve at the scene four days after an Ethiopian Airlines Boeing 737 Max 8 aircraft crashed shortly after takeoff, killing all 157 people on board, near Bishoftu, Ethiopia. The October prior, 189 people died when the same kind of Boeing aircraft crashed in Indonesia. (Mulugeta Ayene/AP Photo)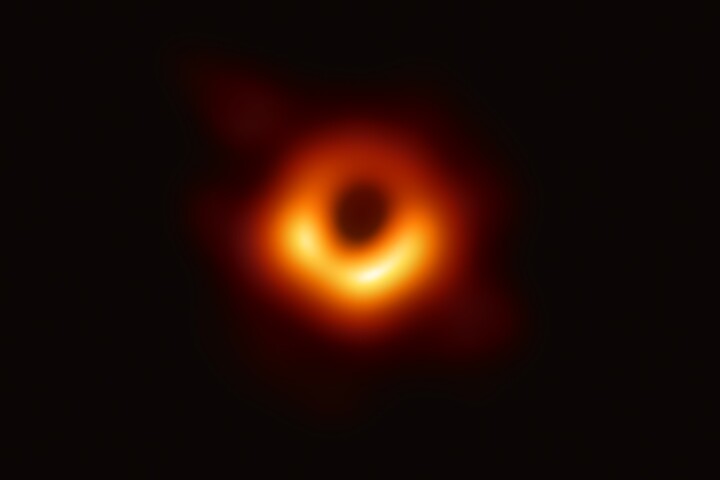 The first image of a black hole, captured by the Event Horizon Telescope of the National Science Foundation, was released on April 10. The black hole is at the center of galaxy M87, a supergiant elliptical galaxy in the constellation Virgo, and is outlined by emission from hot gas swirling around it under the influence of strong gravity near its event horizon. A network of eight radio observatories on six mountains and four continents, the EHT observed the black hole on and off for 10 days in April 2017 to make the image. (Photo by National Science Foundation via Getty Images)
Venezuelan opposition leader Juan Guaidó speaks to supporters in Caracas on May 1. Thousands gathered to demand President Nicolas Maduro's ouster as part of the nation's struggle between a widely detested socialist government and an opposition backed by powerful allies like the United States but unable to secure the loyalty of key factions, like the military. (Fernando Llano/AP Photo)
Actress Felicity Huffman, center, gets into a vehicle followed by her brother, Moore Huffman Jr., outside federal court in Boston, where she pleaded guilty to charges in a nationwide college admissions bribery scandal on May 13. Huffman served 11 days in prison in October after paying $15,000 in a scheme to boost her college-bound daughter's SAT scores. (Steven Senne/AP Photo)
Special Counsel Robert Mueller walks from the podium after speaking at the Department of Justice in Washington on May 29. Mueller, who led the two-year-long federal investigation into Russian interference in the 2016 presidential election, declared after finishing his report that he could not exonerate nor charge President Donald Trump with obstruction of justice. (Carolyn Kaster/AP Photo)
Megan Rapinoe of the United States women's national soccer team lifts a trophy after the team won the Women's World Cup final soccer match at the Stade de Lyon in Decines, France on July 7. It was the fourth World Cup victory for the U.S. women's soccer team. (Alessandra Tarantino/AP Photo)
A protester holds up a sign of financier and convicted sex offender Jeffrey Epstein in front of the New York City federal courthouse on July 8. Epstein died by suicide in August while in prison awaiting trial on one count of sex trafficking of minors and one count of conspiracy to engage in sex trafficking of minors. (Photo by Stephanie Keith/Getty Images)
Gloria Garces kneels in front of crosses at a makeshift memorial near the scene of a mass shooting at a Walmart store in El Paso, Texas on August 6. Three days earlier, a gunman shot and killed 22 people and injured 24 others in the store. (John Locher/AP Photo)
Visitors look at a portrait of Nobel laureate Toni Morrison, painted by the artist Robert McCurdy, at the National Portrait Gallery in Washington on August 6. Morrison, who died the day before at age 88, was the first African-American woman to win the Nobel Prize in Literature. She was also awarded the Pulitzer Prize for Fiction and the Presidential Medal of Freedom. (Patrick Semansky/AP Photo)
German Chancellor Angela Merkel welcomes Britain's Prime Minister Boris Johnson with military honors for a meeting at the Chancellery in Berlin, Germany on August 21. Johnson became prime minister after Theresa May's resignation in July and took up the helm of navigating Great Britain through Brexit, the country's departure from the European Union. (Michael Sohn/AP Photo)
Artists dance La Marinera during the opening ceremony of Parapan American Games Lima 2019 at Estadio Nacional de Lima on August 23 in Lima, Peru. More than 1,800 athletes competed in 17 sports, making it the largest Parapan American Games since they were first held in 1999. (Photo by Leonardo Fernandez/Getty Images)
Homes flattened by Hurricane Dorian are seen in Abaco, Bahamas on September 5. More than 60 people have been counted on the official death toll in the months since the hurricane, and hundreds of people remain missing. The hurricane caused an estimated $3.4 billion in damages. (Gonzalo Gaudenzi/AP Photo)
Sixteen-year-old environmental activist Greta Thunberg, of Sweden, addresses the Climate Action Summit in the United Nations General Assembly, at U.N. headquarters on September 23. "This is all wrong," Thunberg told world leaders during her speech. "I shouldn't be up here. I should be back in school on the other side of the ocean. Yet you all come to us young people for hope. How dare you. You have stolen my dreams and my childhood with your empty words." (Jason DeCrow/AP Photo)
People protest a government ban on face masks in Central on October 4 in Hong Kong, China. Pro-democracy protesters in Hong Kong continue to call for an independent inquiry into police brutality, democratic elections for Hong Kong's leader and legislature, and the retraction of the word riot to describe the rallies, as the territory faces a leadership crisis after six months of unrest. (Laurel Chor/Getty Images)
Turkey's forces advance towards Manbij, Syria on October 14. After President Donald Trump's October 9 order to withdraw American troops from northern Syria, Turkish forces invaded the region, killing at least 23 Kurdish fighters, before a ceasefire was declared on October 23. Trump faced a bipartisan condemnation for what many called his abandonment of the Kurds, who are American allies in the fight against the Islamic State. (Ugur Can/DHA via AP)
Nine Democratic presidential candidates are pictured onstage during the fourth primary debate, which took place at Otterbein University in Westerville, Ohio on October 15. Massachusetts Sen. Elizabeth Warren was largely viewed by analysts as the winner of the debate, faring well from multiple attacks from other candidates, and the most-discussed topic of the night was health care. (John Minchillo/AP Photo)
Speaker of the House Nancy Pelosi stands and speaks to President Donald Trump during a meeting with Congressional leadership in the Cabinet Room of the White House in Washington on October 16. Pelosi and Trump had a contentious relationship, as illustrated in this meeting, during which Pelosi reportedly told the president that "all roads with you lead to Putin." (Official White House Photo by Shealah Craighead via AP)
U.S. Astronauts Jessica Meir, left, and Christina Koch pose for a photo in the International Space Station. The two women made history on October 18 for participating in the first all-female spacewalk, venturing outside the ISS for seven hours and 17 minutes to replace a power controller. (NASA via AP)
During a memorial service for Rep. Elijah Cummings at the U.S. Capitol Hill in Washington on October 24, the congressman's wife, Maya Rockeymoore Cummings, stands in front of his casket. The Maryland congressman and civil rights champion died on October 17 at age 68 from complications from long-standing health issues. (Melina Mara/Pool via AP)
Washington Nationals third baseman Anthony Rendon and Adam Eaton celebrate their World Series win in the locker room after Game 7 against the Houston Astros on October 30 in Houston. It was the Nationals' first World Series win. (David J. Phillip/AP Photo)
House Intelligence Committee Chairman Rep. Adam Schiff (left) listens next to ranking member Rep. Devin Nunes at a House Intelligence Committee hearing featuring witness U.S. Ambassador to the European Union Gordon Sondland on Capitol Hill on November 20. The committee heard testimony during the fourth day of open hearings in the impeachment inquiry against President Donald Trump, which was launched by Speaker of the House Nancy Pelosi in September after an anonymous whistleblower alleged that Trump levied foreign aid against the Ukrainian president in exchange for the country agreeing to investigate his political rival, former Vice President Joe Biden. (Photo by Yara Nardi - Pool/Getty Images)