"Front of the Line" is a recurring series where GBH News' Haley Lerner explores fan culture and talks to the people who show up first in line to see their favorite musicians.
Indie supergroup boygenius pulled out multiple surprises for fans during their first of two headlining shows at MGM Music Hall in Fenway.
The band, consisting of Phoebe Bridgers, Julien Baker and Lucy Dacus, formed in 2018 and released their latest album "The Record" in 2023. Their Monday performance was the first of their latest American tour leg, and boygenius treated their fans with an announcement of a new EP "The Rest" that will be out in October and a performance of new song "Black Hole" from the forthcoming project.
Another surprise? Irish musician Hozier joined the band on stage for their final song, "Salt In The Wound."
It was an energetic night for the band that has a massive fan base — with many fans turning up to doors of the venue early, willing to bear chilly weather and rain to get a front row spot at the show.
Denley Cushing and Gaby Rivera held down the front of the general admission line at Monday's concert.
Cushing showed up at 11 p.m. the night before the show to secure her spot at the front of the line.
"It's been a while," she said. "No sleep, but it's worth it."
She doesn't know when she'll next get to see the band together on tour, since they each have their own music careers. The supergroup originally formed to show that women in rock shouldn't always be compared to each other.
"I just love what they stand for so much, they're so authentic and their music just hits home every single time," Cushing said.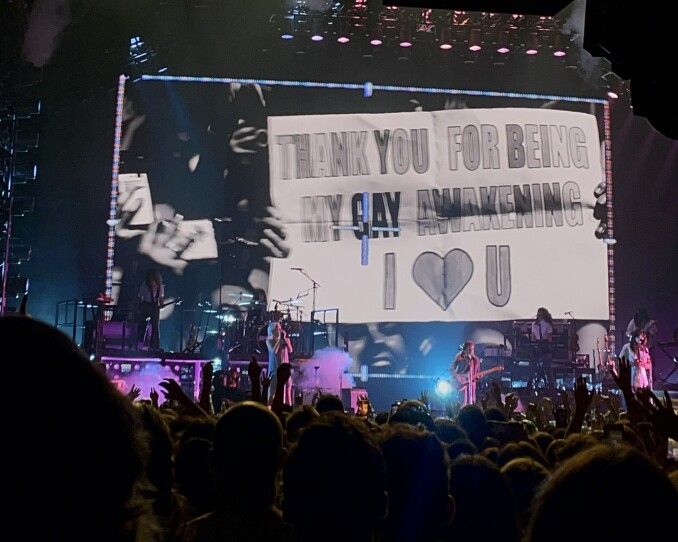 Rivera showed up at midnight before the show. She last saw boygenius at their Boston performance at the Re:SET music festival that they headlined in June and wanted to secure a better spot in the crowd than she had before.
"I'm excited to see the trio's individual songs, seeing Lucy because she's my favorite," she said. "I'm not biased, but I am! And crying my eyes out because it's barricade."
The fans that showed up early on line were hoping to get a better glimpse of their favorite boygenius member — for Abby Grandin, who lined up at 4. a.m., that was Bridgers.
"I really want to be in front of Phoebe," she said. "I was a fan of Phoebe Bridgers first, not going to lie, and then one of my friend's' dad actually introduced me to boygenius and since then I've just been a really big fan. Their lyrics are just really good, vocals together, they just sound amazing, I can't even describe it. When I listen to their music, it's like an out of body experience."
Olivia Butler also discovered the group through Bridgers — but has developed a love for all members of the supergroup.
"I'm so excited, my heart is racing, I physically can't contain myself," Butler said. "I'm feeling so excited to see all three of my wives. I was originally a Phoebe Bridgers fan, she introduced me to boygenius, I knew immediately that I was going to want to see them live."
Fans looked forward to the banter among the members of the band, who started out as friends and fans of each other's work in the indie scene before joining together as a supergroup. Bridgers, who attended Berklee College of Music briefly before dropping out, even offered advice to current students of the school.
"Who goes to Berklee? Drop out! Make friends, make a band, and drop out. They're stealing from you!"
Ava Agharabi is another devout fan who chose to line up early for the show and was excited for the surprises.
"I saw them in Boston over the summer and it was one of the greatest experiences of my life," she said. "Their energy is so good, they always do something crazy and it's always so fun. Their ending is always really good. They feel like they're family, they feel like they bring other people together."
Grace Phearson is such a loyal boygenius fan that along with waiting outside for her spot in the general admission pit, she also has a tattoo in honor of the song "Not Strong Enough."
"The experience, getting to see these people you normally just see in a little box on your phone, it sounds so cheesy but it's like everything you dreamed of lives up to the experience and you want to make it a good one," she said.