It's common knowledge that we have a second stomach for desserts, right? So even if you're full, you can always find room for that chocolate bread pudding or apple pie and ice cream. A great dessert can make or break a meal. But we've also all had days—haven't we—when skipping a meal and going straight to dessert is necessary. Whatever the reason is to indulge, Central Square has some crazy good options for honoring that sweet craving.
The small, diverse neighborhood with a gritty vibe—and lots going on—is often overlooked by tourists flocking up the street to the more famous Harvard Square. And maybe that's a shame, but perhaps it's why—amidst years of development—the neighborhood seems to consistently manage to sidetrack the trimmings of gentrification. There's a decided lack of pretentiousness to the place, despite being a wellspring for live music, good coffee shops, ethnic eateries, tech start-ups, comedy, theater, and trendy nightclubs.
Central Square also has a sweet history. There's a factory on Main Street that keeps its operations under such tight wraps, few know what goes on behind the opaque windows and closed doors. But the facility happens to be the world's only manufacturer of Junior Mints, Charleston Chews and Sugar Babies, and has been churning out candy every day since 1927. Unfortunately, the chance of a tour is slim to none; the place is often compared to Willy Wonka's Chocolate Factory (in terms of its secrecy). But don't despair, we've found plenty of other options for your sweet-tooth in the neighborhood.
Paris Baguette
You'd be hard-pressed to find a more mouthwatering array of French-inspired, freshly baked, sweet and savory pastries than you will at Paris Baguette, located in the H-Mart food court. There are too many good choices here—you can't really go wrong—but their "cronut" is a must try. It's a croissant, in the shape of a donut, filled with vanilla cream and iced with lemon. The perfect combination of buttery, doughy and crispy on the outside, it's a thing of wonder.
The drinks need a shout out too. We'd venture to say that some are even acceptable substitutes for a pastry. The green tea chai latte is out of this world, surprisingly creamy, and just the right amount of sweet; it's a nice change from a regular chai latte. The smooth and sweet milk tea, with boba, can also satisfy that sweet craving quite nicely.
581 Mass Ave., Cambridge, 617-714-3456, parisbaguette.com
Rangzen Tibetan Place
The first Tibetan restaurant in Cambridge, Rangzen has been serving noodle dishes, momos (dumplings), tingmo (steamed buns), and much more for 20 years. But there's a dessert on the menu—rich with history, as well as taste—worth saving room for.
For a true Tibetan tradition, try Deshi: steamed warm rice mixed with melted butter, brown sugar, dried fruits and cashews. In Old Tibet, before 1959 when the Chinese invaded, rice was extremely precious. Owner Dhiki Cheshatsang's grandparents were traders; she explains it would take three months for the rice to make it from India—on horseback, across the mountains—into Tibet. Consequently, Deshi was reserved for special occasions, such as celebrating the birthday of the Dalai Llama or family celebrations. It was, and still is, customary on the Tibetan New Year (Losar) for Deshi to be served in the morning.
As Dhiki describes it, the Deshi ritual is an opportunity to pause to be grateful to the abundance in your life and to be content. Pair it with their traditional black tea, tea with butter, milk and salt, or sweet tea with milk. It's an experience you're sure to make your own tradition!
24 Pearl St., Cambridge, 617-354-8881, rangzentibetanplace.com
Little Donkey
For high quality ingredients in highly creative combinations, try Little Donkey, a tapas restaurant opened by the James Beard Award-winning Ken Oringer and Jamie Bissonnette. The restaurant has fast made a name for itself with its eclectic—and attention-grabbing—ever-changing menu, that keeps repeat customers on the edge of their seats.
True to character, Little Donkey's desserts are distinctively inventive. The menu might feature whimsical choices such as mango curd Ritz cracker sandwiches, a white chocolate rhubarb DONKsicle with puffed quinoa, or their famous chocolate chip cookie dough, served on an actual egg beater with a side of milk foam and cocoa nibs. Chef Oringer has said, "Every chef likes to have a restaurant where they can cook whatever the hell they want to cook any time they want to cook it, and this gives us that freedom." And, lucky for us, when Oringer and Bissonnette are in the kitchen together, magic tends to happen!
505 Mass Ave., Cambridge, 617-945-1008, littledonkeybos.com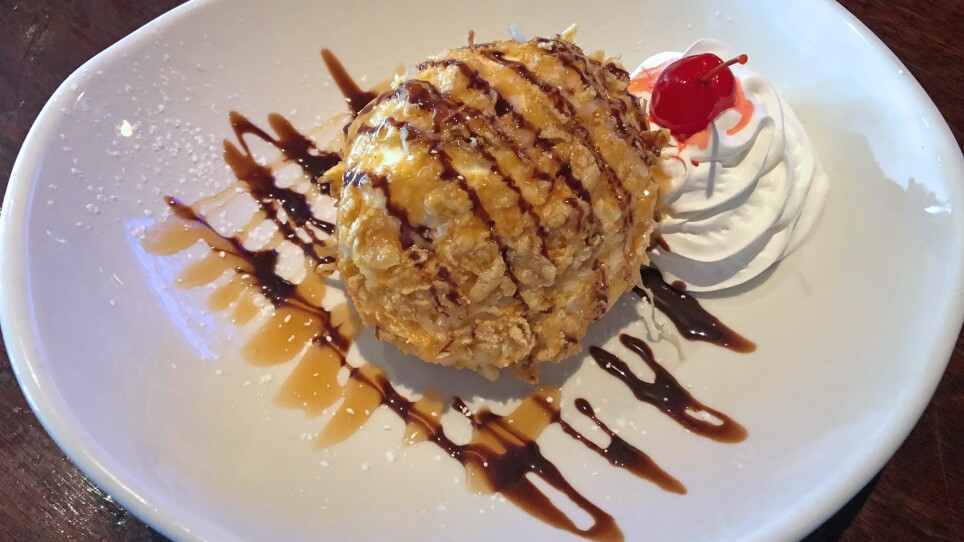 730 Tavern, Kitchen & Patio
It's been almost a year since 730 Tavern took the place of Tavern on the Square-- refurbishing and revamping the menu. It's the perfect spot to celebrate a beloved New England sports team, or just kick back and enjoy a cocktail with friends. Serving classic American pub fare with the occasional exotic flair (a shout out to the Brazilian owners), the new menu features Buffalo popcorn chicken, Reuben sandwiches and clam chowder, alongside Southwestern spring rolls with lime chicken, black beans, corn and sweet chili, sea salt pretzels with queso sauce and Sriracha aioli, and crispy fish tacos with pico de gallo, chipotle aioli, and a flour tortilla.
But don't you dare think about skipping dessert. If you're in the mood for apple crisp or a classic brownie, go for it. The fried ice cream is also a favorite, flash fried and rolled in cornflakes and shredded coconut. It's served with chocolate sauce and whipped cream. But what the patrons really go crazy for are the churros. Made in house, these mouthwatering fried donuts come three to a plate, and are rolled in cinnamon sugar, caramel sauce, and served with whipped cream and a cherry on top-- heaven!
730 Mass Ave., Cambridge, 617-868-8800, 730tavern.com
Veggie Galaxy
We've already talked about Veggie Galaxy's giant menu of vegetarian and vegan dishes. But it's also important to know that Veggie Galaxyalso has their own on-site bakery, it's 100% vegan, and the desserts are truly something to write home about. Donuts with flavors like brown butter hazelnut and elderflower lemon, fresh strawberry shortcake, a mile high lemon meringue pie made with freshly squeezed passionfruit and lemon juices, other various pies with buttery (sans the butter) crusts, and muffins baked fresh each morning.
But let's get to the cheesecakes because they are—in a word—phenomenal, and how they taste so incredibly good without using cream cheese is a miracle of science. We recommend you try the Oreo cheesecake with Taza chocolate ganache and Oreo cookie crumbles baked inside, or the decadent chocolate cheesecake, made with real Dutch cocoa and Taza chocolate. Divine.
450 Mass Ave., Cambridge, 617-497-1513, veggiegalaxy.com
Dosa Factory
Tucked away behind the Shalimar Food & Spices Indian grocery store—a long-time staple of Central Square—Dosa Factory is a hidden gem that prides itself on serving the best Indian street food. Dosa—extremely popular Southern India—is a type of pancake made from fermented butter, and then stuffed with fillings like potatoes, lamb vindaloo, eggplant, spicy chickpeas, chicken, and chutney, and Dosa Factory has some of the best in Boston.
Their ginger honey Dosa is delicious, but we recommend that you save room for the carrot cake Dosa, stuffed with gajar halwa (a carrot-based sweet dessert pudding) and a drizzle of honey. If you're looking for something else, try the Gulab Jamun; deep fried dough balls soaked in rose scented syrup, or the Ras Malai; fresh homemade cheese patties cooked in milk syrup and garnished with nuts-- both are heavenly. Badami Kulfi is another show-stopper, and is a traditional almond-based Indian ice cream that's dense and creamy.
Dosa Factory also makes a host of memorable "dessert drinks". Lassis–churned, yogurt-based chilled drinks—served sweet or salted—come in flavors like mango, rose, and Masala ginger. Or live a little and try a saffron and pistachio milkshake, or the ever-popular Kulfi Falooda sundae made with layers of condensed milk kulfi with falooda (rice vermicelli).
Yes, the breadth of flavors and textures is practically overwhelming; definitely too much to sample in one visit. It's OK, we'll have no problem coming back here.
571 Mass Ave., Cambridge, 617-868-3672, dosaboston.com
Mariposa Bakery
For a quaint down-to-earth bakery with brick walls and a chalk board menu, Mariposa Bakery is a real find. We recommend you try the delicious homemade frittatas for breakfast, or the veggie burger for lunch -- they're superb and everything is made to order. We've also heard people rave about the pretzel rolls and bagels, but it's hard to go savory when the sweet options are what's on our mind.
The selection may vary from day-to-day, and the cakes are baked with creative flavor combinations that just melt in your mouth. Their pies are also a treat, as are the scones (try the blackberry lime) and cookies-- both baked daily. But it's the glazed donuts that we can't get enough of. They're big, and fresh, and come in a variety of mouth-watering flavors -- ridiculously good. Mariposa Bakery also serves delicious coffee—good and strong—as well as fair trade teas. Pair a cup with your treat and you'll become a regular.
424 Mass Ave., Cambridge, 617-876-6500, www.facebook.com/Mariposa-Bakery