Raise the bar on your dining experience by adding conversation-worthy art to the menu, making your meal a truly unique experience. Who says you can't have it all?
The Gallery, Boston
In the day time, The Gallery, located in downtown's W Hotel right across the street from the Boch Center, is a large bright space with high ceilings and big windows. Customers can, as befits their mood, decide among high top tables along the window, cozy banquettes with cushions covered in metallic fabrics, or standard tables with sleek leather seating.
The clean, contemporary, look and feel just calls out for some arresting visuals, and The Gallery delivers. Hanging currently from industrial quality wooden trellises that traverse the space, is the show 'Native' which pairs artist Maker Jake with indie 184. It's really cool and worth stopping in for, even if you only have time for a drink.
Both artists work with culturally native themes, and the paintings are consistently striking in their use of visuals and vibrant color. As Mary Waszkiewicz, PR and marketing manager tells me, The Gallery prefers to hang two artists' work at once, so there's some push and pull, and variety. The artists are carefully handpicked to complement one another.
Shows are quarterly, and The Gallery partners with the Blochaus Art Gallery in the Mill District of Lawrence MA. Blochaus owner Markus Sebastiano, will often curate, and oversee the hanging of the art himself, and he also helps arrange a series of artist talks that take place at the restaurant. These are free events, covering topics useful to working artists, things like 'putting a successful portfolio together', 'selling art to galleries', 'promoting work on Instagram', etc.
Mary explains that the work from Blochaus tends to have a more gritty vibe that can't otherwise be found downtown. It works for The Gallery as they like to stick with more local, up-and-coming artists, and more contemporary pieces.
The successful blend of high-end sophistication and a casual and relaxed vibe, is mimicked by the food served at The Gallery. You can find filet mignon on menu, but you can also order a burger, or stop in for 'Taco Tuesdays'. The New American Cuisine is headed up by Texan Chef Derek Barragan. Derek's dishes are mostly Latin inspired, a nod to his Mexican heritage, and he works with local ingredients from local farms.
The restaurant is just one of three galleries in the W hotel; each has its own distinct feel. More high end art can be found on the mezzanine level gallery, while the goal is for the restaurant art to not only work cohesively within the space, but to be more accessible–if you're feeling flush, the prices of these pieces range from $600-$3,000.
100 Stuart St., Boston, 617-261-8700, wboston.com/thegallery
The Beehive, Boston
Stepping into the cavernous below-street-level space that is the Beehive, I instantly feel like I've left Boston, perhaps even left this century. With its distinctly European vibe, I imagine a hundred years ago it would have been a favorite rendez-vous for Picasso, Gertrude Stein, and other Paris Literati.
For a restaurant that can seat almost 200 people, it's snug and inviting. Velvet beaded curtains hang from exposed brick walls, crystal chandeliers and pink tinted light bulbs suffuse the space in a soft rosy glow, and an eclectic selection of art hangs from all the walls. To one side, the round café-style tables with white table cloths cozy up to a small stage.
Live entertainment every night of the week, accompanies the modern American menu, generous portions of elevated comfort food that fit right in with the warm ambiance.
Adorning the walls is a collection of paintings, prints, photographs, and video installations that rotate every three to four months. Guest curators are regularly brought in to keep a fresh eye on the art work, and it's overseen by co-owner Jennifer Epstein. Usually the Beehive hosts a multimedia collection of different artists, though Jennifer informs me that the next exhibition will be their first solo artist.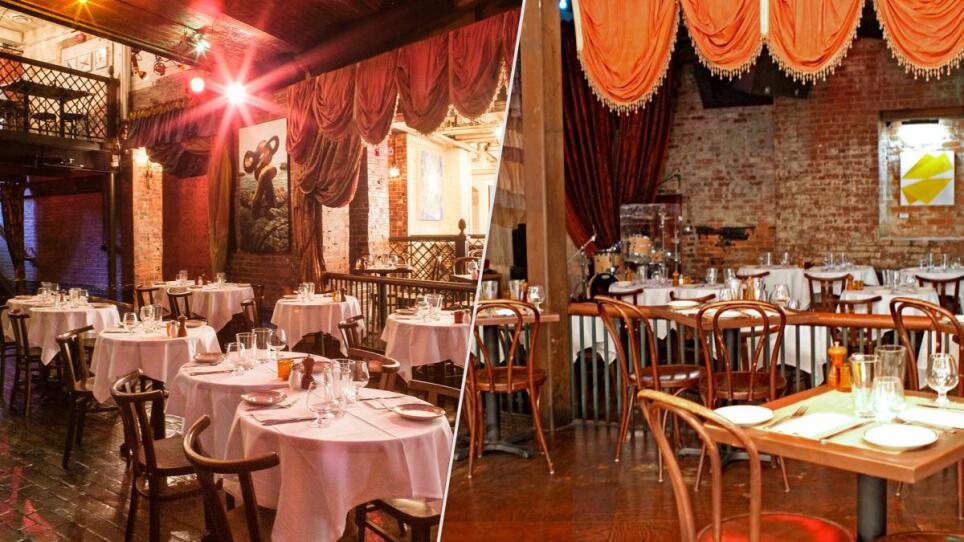 At street level, there's another bar and restaurant area, where I'm trhilled to see the remains of the late 19th century brick road that once led to the cyclorama next door. I can almost hear the horse and buggies clip-clopping along. The brick recesses are atmospherically illuminated with purple and green lights, and I'm told performance artists have, in the past, made creative use of the space.
The Beehive is a memorable, multidimensional experience, a lively spot that harkens to a different time, where artists, poets, and musicians came together to share good food, drink, and unbridled creativity. It's not hard to imagine the seeds being sowed for many contemporary creative works of genius, right here in this setting.
541 Tremont St., Boston, 617-423-0069, beehiveboston.com
Café ArtScience, Cambridge
So much more than a restaurant, Café ArtScience is a cultural experience you won't soon forget. Walking in, I'm struck by the drama of the space, created by avant-garde designer Mathieu Lehanneur. It's futuristic and welcoming at the same time, with comfy green couches, soft white leather barstools, lots of light, and white walls.
Richly carved wooden sculptures, in natural forms that you really want to touch, stand out against the ultra-modern vibe of the restaurant. They are the creations of Jacques Vesery, the artist working currently at Café ArtScience. Across the room, dark sand grains undulate in wave like patterns across a large glass frame, while by the host station, artist video installations run on loops.
The Culture Lab and Café (as Café ArtScience is known) is actually an experiment that began a decade ago, when David Edwards, an inventor and pioneer of the international artscience movement, opened a cultural center in Paris, named Le Laboratoire. The lab, which he was invited to bring to Cambridge 4 years ago, engages the public in the adventurous creations of innovative artists, designers and chefs, whose creations push the boundaries of science and technology.
Artists are invited to the Laboratoire to create and collaborate on unique and often radical work, about issues important to us all. David is forward-thinking, creative, and passionate about food, its sustainability, and the role that restaurants have to play in curating how we'll eat tomorrow. He hands me something that looks like a grape, but isn't, and tells me to try it. It tastes like frozen yoghurt wrapped in an edible skin, and prompts a discussion about the environmental importance of eliminating plastic from food packaging. I am introduced to Gita, a Robot who delivers me a whiff of breathable chocolate. This 'sensory cloud', is a technique used to compliment food, or the cocktails on the experimental bar menu, but it opens the door to a world of possibilities.
David leads me to a circular, grey paneled structure in the center of the restaurant–the panels are a honeycomb design, a motif I see occurring throughout the restaurant. To my surprise, the walls part to reveal a spacious room. Restaurant staff are conducting a meeting around a large oval table, while mesmerizing photos of art project on the back wall. The space is used as a workshop, a meeting room, a gallery, and a classroom. A Harvard Professor to boot, David teaches a class in here called 'How To Create Things And Have Them Matter'.
This place has a lot going on, more than I can cover here, but what I came away with is that Café ArtScience is doing things that matter. The art work coming out of there has evolved to be increasingly connected to the beautifully presented dishes and drinks on the menu. David's enthusiasm about all this is contagious, and his commitment to experience, experimentation and the re-invention of food delivery is truly inspiring.
650 E. Kendall St., Cambridge, 857-999-2193, cafeartscience.com
Lumière, West Newton
For years, Lumière in West Newton was an upscale, fine-dining establishment, with an intimate atmosphere and the blinds to the street drawn; you'd have been forgiven for thinking, like some residents did who hadn't been in before, that it was a furniture or lighting store. Two years ago, when Chef/Owner Chef Jordan Bailey took over the management, he immediately set about transforming the place into a welcoming neighborhood restaurant, opening the curtains to the community and drawing them in with an accessible menu and exciting events.
Prior to Bailey taking the reins, Lumière had built its reputation on sustainably-sourced ingredients, and Jordan has remained committed to this. His thoughtful takes on classic comfort food are infused with flavors inspired by his many childhood trips to Europe, where he learned a thing or two from watching his grandmother's skillful cooking. The food is still locally sourced–Drumlin Farms is Bailey's go-to for the freshest ingredients–and the menu changes based on availability.
To further engage the community, Lumière hosts events like weekly wine tastings and art openings. A new Family Meal program is also in the works, set to launch on May 1.
When I visit there's a photography show up on the back wall. The sepia toned photos by Myrosha Dziuk are ethereal and dream-like, an elegant addition to the restaurant's unassuming yet sophisticated vibe. Working with places like the New Art Center and the Cultural Alliance, both in Newton, Lumière's corporate event coordinator Megan Davies hand picks local artists to hang art that compliments and augments the ambiance of Lumiére.
Shows rotate every two months, so just like the ingredients in the dishes, the art stays fresh and interesting! Customers rave about the food at Lumière, but the venue itself also gets accolades. In reviews, customers concur that it's a place where you can always hear yourself talk, something I always appreciate when I'm out with friends and family.
1293 Washington St., West Newton, 617-244-9199, lumiererestaurant.com
Good Life, Boston
I visited Good Life during the day, when it was quiet, and a soothing escape from the busy hustle and bustle of downtown Boston. From all accounts, this is just one side of the casual sit-down restaurant in the Financial District, that caters to a robust lunch crowd, and after-work clientele. In the later hours, the scene is very different, as Good Life turns the floor over to some of the best underground local music bands, groups and DJ's from the Boston area. Genres range from house and techno, to trap, hip hop and reggae; it can be quite the party scene, and has the reputation of being one of Boston's top dance venues.
The restaurant has three rooms with three distinctly different feels. A more intimate bar room, opens up to a large dining room with windows onto the street, and a lounge with a bar downstairs that has a less formal feel. Not that the place feels stuffy; high ceilings and exposed brick, bare floors and rough wooden furniture, give it a relaxed ambiance, while the walls, when I am there, sport eye-catching collages, adding an edgy artistic vibe.
Formerly a Mass Art student, owner Peter Fiumara's natural appreciation for art, combined with his network of artist friends, gave way to the first exhibits at Good Life, and art is now an integral part of the scene here. 2-3 years ago, Jeff Gillbride, public relations manager, took over the booking and promotions of the art work, as well as the night life; he now hangs the art himself, and the shows rotate every couple of months. Work comes from local galleries, or art brokers, but also through referral and the personal network of people they know.
The menu is Italian and French influenced American style bistro supporting many local food growers and vendors. So, if you're looking for a good lunch, or after work wind-down, Good Life has you covered. And if you're ready for dinner and a party, Good Life will help you get your groove on.
28 Kingston St., Boston, 617-451-2622, goodlifebar.com
Art Bar, Cambridge
It's not often that you enter a restaurant and come face to face with an Andy Warhol, but if you visit the Art Bar, located in Cambridge's Royal Sonesta Hotel, Warhol's "The Souper Dress" will be one of the first things you see.
The Royal Sonesta was so named for Sonny and Esther Sonnabend, who had their own private art collection, and originally used the hotel like a museum. Today there is still art throughout, and the hotel lobby hosts its own pop-up exhibits. Currently a sneaker-art show is there; it's pretty hip and curiously fascinating.
Freshly renovated, the Art Bar flows to the lobby, giving the space a lighter more open feel than it had in it's previous configuration. Behind the bar also opens up to the hallway. The look here is modern, slightly industrial with exposed brick and black metal chairs and tables. It is an inviting, welcoming space, with attractive accent lighting, and custom mill work. A light and neutral palette allows the art to take center stage in this refined, sophisticated setting.
At the Art bar they believe food is art, and looking at the dishes, it's easy to believe. Executive Chef, and Director of Food and Beverage, Brian Dandro's menu is modern American with a nod to the quintessential New England favorites, for the cosmopolitan clientele of the hotel. The menu evolves seasonally and inspirations come from all over, thanks to a diverse kitchen staff.
The art here comes from the extensive collections of the Hotel, and is not for sale, which perhaps is just as well. With some of the A-List artists in this collection, the average budget might struggle to accomodate an Art Bar acquisition!
40 Edwin Land Blvd., Cambridge, 617-806-4122, artbarcambridge.com