It's been one month since about 80 natural gas fires and explosions erupted across three communities north of Boston. The fires killed one person, injured dozens, and displaced thousands.
Now, many families are back home, but things are definitely not back to normal.
On September 13, Henry Schiebel was just starting to cook dinner in his South Lawrence home.
"I turned on my gas stove and it was making a hissing sound — a loud hissing sound," Shiebel said.
He turned the stove off and on again, and a big flame shot up. He went down to the basement to shut off his gas meter and heard his furnace and water heater were hissing, too.
"This here, you see where it was starting to burn, was glowing red," he said, pointing to his furnace. "By me shutting off that gas saved this house from going up."
Many of his neighbors weren't as lucky. Dozens of houses around him went up in flames, and several blew up. Schiebel and his family spent a few nights in a shelter. They're back home now, but they're one of about 10,000 households that a month later, still don't have gas for heat, hot water, or cooking.
Shiebel pointed to the pots and pans he's been using. "We got to fill these up with water," he said. "My wife fills up the crock pot with water, to fill up the tub just a little bit so we can sponge bath."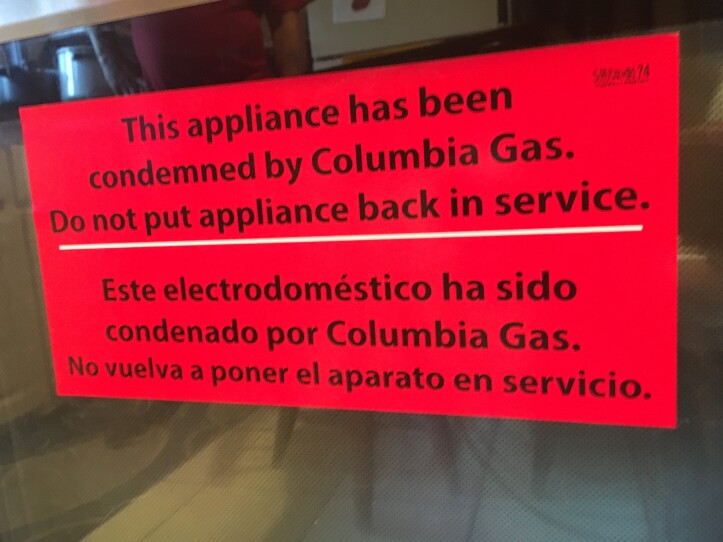 So far, the early fall here has been a mild one, but things can change quickly in New England.
"Next week if you look at the temperature it's going down to the 50s and then to the 40s in a couple of weeks," he said.
And Columbia Gas says it could be another month before the gas is restored. Schiebel says the best bet to stay warm may be what's developing around the corner from his house. Nearly 200 RVs are being trucked in and lined up just feet from each other on a Lawrence baseball field. This is one of four trailer parks being set up in the three affected communities.
Chris Besse of the state Emergency Management Agency unlocked one of them to show it off. "Beds, pull out couch, small kitchen area, dining table, bathroom and shower," he said. "You know the things they may need that may not have in their home."
Columbia Gas has also booked over 3,000 hotel rooms and rented more than a hundred apartments for families to move into once it gets cold. They have also handed out space heaters, but the wiring in many homes here isn't good enough for that to be a safe option.
The gas crisis has also affected hundreds of businesses in the region, like Shadi's Restaurant in North Andover. The restaurant's owner, Shadi Asmar, pointed out two new fryolators in the kitchen. "These were the two pieces of equipment that were actually damaged through the high pressure," he said. Asmar had to shut the restaurant down for three weeks. He and his employees have filed claims with the utility for their losses.
Fortunately, they've got gas again, and the restaurant is back open. "You know, it's behind us now but for thousands of other people and many hundreds of other businesses it's still an ongoing thing and still people don't know when it's coming back," he said.
Gas crews are all over the three communities, digging up roads and replacing old, cast-iron pipes with new plastic ones that can handle a higher pressure of natural gas. But even as the gas starts getting restored, the whole thing has left many residents, including Henry Schiebel, feeling uneasy.
"Tell you the truth, I am scared to death," he said. "When they turn that gas on I don't want to be in this neighborhood."
It's a mixture of anticipation and anxiety that's being felt in many households here, as people wait for the gas to come back.
---