Updated July 4, 6:12 p.m.
Two days after a group of white supremacists carrying shields and a banner saying "Reclaim America" marched through downtown Boston and allegedly assaulted a 34-year-old Black man walking through Back Bay, local civil rights leaders are questioning the Boston Police Department's response to the march.
Civil rights advocates, at a press conference today outside the Boston Public Library, also called on Boston's mayor to form a commission on race relations in the city.
About 100 members of a white supremacist group called the Patriot Front marched Saturday in Boston. Police responded around 1:30 p.m. to an assault at the corner of Dartmouth and Stuart street, according to a Boston police report.
The victim, later identified as Charles Murrell — an activist and street artist from Boston — told police that the marchers with shields shoved and pushed him to ground, continuing to kick and hit him, according to the police report.
Boston police said they tracked the march via "Boston Regional Intelligence Center" cameras but did not respond to questions about the presence of police officers on the streets during the march.
"It's mind-boggling to me that a group of 100 children of the KKK were allowed to march across the span of the city from Haymarket to into this area of Back Bay without appropriate police presence or surveillance," Rev. Kevin Peterson said Monday, speaking outside the Boston Public Library during the press conference.
Peterson directs a civil rights organization called the New Democracy Coalition. He was joined by Peter OPara, chairman of the New Democracy Coalition, in calling for the city of Boston to form a commission of business, cultural and academic leaders to look at Boston's long history of racism.
"[We] need to create some policies that would create a level playing field that will begin to heal fractured relationships between Blacks and whites," Peterson said.
OPara voiced his support for a commission on racism. "The racism [in Boston] is ongoing. It is one nut that cannot be cracked," he said.
Murrell also spoke at the press conference Monday but did not answer questions about being assaulted. He invited people to an art event on the July 14 at Copley Square that would focus on reconciliation.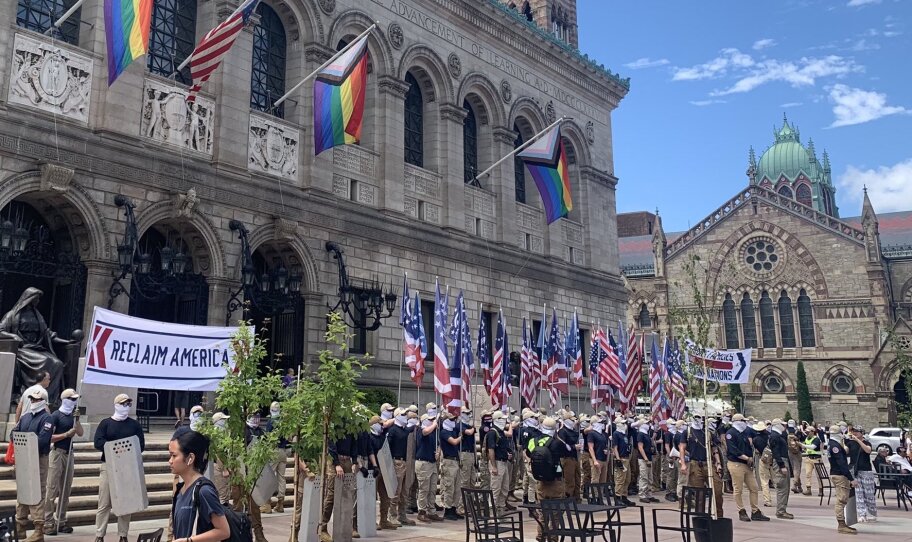 Another civil rights leader, Rev. Miniard Culpepper, said that police and leaders need to step up their surveillance of extremist groups.
"We need to look at organizations that are spewing similar hatred," he said. "The state can look across [Massachusetts] and begin to collect data on these incidents that take place. Who's doing it? How large [is] the 'children of the KKK'? How many are from Massachusetts?"
Speaking at City Hall Monday morning at the kickoff of the city's Fourth of July parade, Mayor Michelle Wu denounced the Patriot Front march.
"A white nationalist, white supremacist group from outside our city … chose to try to co-opt this birthplace of democracy," she said "We wholeheartedly and overwhelmingly reject your message of hate, your desecration of the American flag that you carry."
The Patriot Front stated through social media that it had marched peacefully for two miles through city but was harassed by police and an "isolated attempt to assault the column by a pedestrian."
The group has stoked controversy elsewhere. In June, 31 people affiliated with Patriot Front were arrestedin Coeur D'Alene, Idaho, where they were allegedly planning to start a riot at a gay pride event.
As GBH News has reported, extremism in Massachusetts and New England has been spreading. This is just the latest in a series of hate-inspired events in the region.
The city of Boston is planning a press conference on Tuesday to discuss its response to white supremacists demonstrations.
---